I Am A Hero Book Signing w/ Eren Unten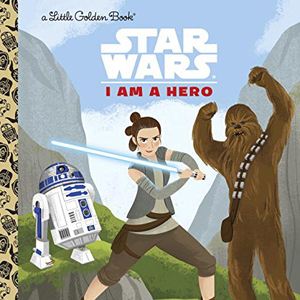 I Am A Hero Book Signing w/ Eren Unten
September 23, 2017
Opening Reception / Sep 23, 3:00PM - 6:00PM


view photos
share this event
Simultaneously featured in our Atrium Gallery:

BB-8 on the run! Exhibition & Book Signing
September 23, 2017 - October 31, 2017
Opening Reception / Sep 23, 3:00PM - 6:00PM


view pieces
view photos
share this event
Come join us for an all Star Wars family event. Eren Unten will be in attendance to sign her latest book
I Am A Hero.
The latest Little Golden Book Star Wars series published by Penguin Random House.
Event Highlights:
Live reading by Eren Unten herself!
Art Presentation.
Cosplay encouraged!
About the book:
Meet all the brave heroes from the Star Wars saga in this Little Golden Book!
Meet Luke Skywalker, Princess Leia, Han Solo, Chewbacca, Finn, Rey, Poe Dameron, and all the brave heroes from the epic Star Wars space saga! Featuring stunning retro stylized illustrations, this book is perfect for Star Wars—and Little Golden Book—fans of all ages. It includes epic scenes from A New Hope, The Empire Strikes Back, Return of the Jedi, The Force Awakens, and Rogue One.
About the artist:
Eren is an illustrator and designer from Los Angeles. She studied art at California State University Fullerton, and earned a BFA in animation. In addition to telling stories with pictures, Eren enjoys watching films, cooking, baking, reading, and spending time outdoors.
Clients include Hasbro Inc., Universal Pictures, Nickelodeon, Penguin Random House, Little Brown, and Co., and Disney.