San Diego Comic Con 2013 (Booth 2743)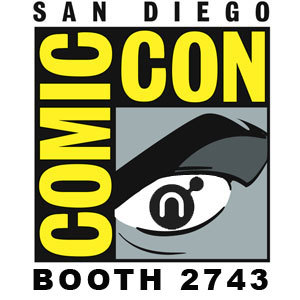 San Diego Comic Con 2013 (Booth 2743)
July 17, 2013 - July 21, 2013


share this event
For our eighth year at San Diego Comic Con, we are releasing exciting new art prints and artist series shirts (some of which are pictured below). Plus, we welcome the following artists who will each have a table alongside ours at booth #2743 for the entire 5 days:
Becky Dreistadt & Frank Gibson
Johane Matte
Kazu Kibuishi & Jason Caffoe
Mike Mitchell
Olly Moss
Scott C.
...in addition to 10 other artists whose signing times are listed below. Stop by to say hello!
NEW print releases include:


Mushroom by Mike Mitchell 12" x 12" $50 edition of 100
Pyramid House by Scott C. 20" x 31" $85
Heroes by Olly Moss 8.5" x 11" $40 edition of 100



and more...

NEW shirts releases:
Super Hungry by Scott C.
Dead Pacman by Scott C.
Turtle by Jon Klassen
and more...

SIGNING SCHEUDLE:
Thursday, July 18
Jed Henry (10am - 2pm)
Rick "Dienzo" Blanco (2pm - 3pm)
William Wray (3pm - 4pm)
Jake Parker (4pm - 5pm)
Mindy Lee (5pm - 6pm)
Friday, July 19
Jed Henry (10am - 2pm)
Jake Parker (4pm - 5pm)
Mindy Lee (5pm - 6pm)
Junko Mizuno (6pm - 7pm)
Saturday, July 20

Jed Henry (10am - 2pm)
Chris Appelhans (2pm - 4pm)
Jake Parker (4pm - 5pm)
Patrick Awa (5pm - 6pm)
Alina Chau (6pm - 7pm)
Sunday, July 21

Jed Henry (10am - 2pm)
Chris Appelhans (2pm - 4pm)