Mitch O'Connell, The World's Best Artist: Signing & Exhibit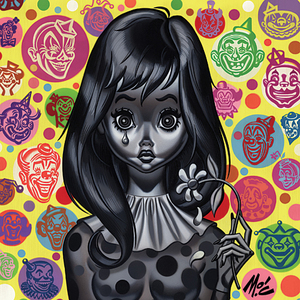 Mitch O'Connell, The World's Best Artist: Signing & Exhibit
February 23, 2013
Opening Reception / Feb 23, 7:00PM - 10:00PM


view pieces
share this event
Mitch O'Connell, the World's Best Artist, is a career-spanning retrospective of work from the king of kitsch, Mitch O'Connell. This full-color, 284 page tome - resplendent with a foam-filled, vinyl, glitter-enhanced cover — collects all the best work from this prolific pop artist.

Join us as the beloved artist greets fans and signs copies of his new release. Nucleus is the only place on his book tour where original artwork will be on display. Select art prints will also be available. Come early for a free temporary tattoo. Complimentary refreshments served.

8:30 PM - O'Connell presents a special slideshow with commentary on his career
9:30 PM - Raffle Drawing - Winning numbers will be posted on our Facebook

Enter to Win!
With each in-store book purchase during the event, enter to win prizes including the original 11" x 8.5" ink drawing pictured below ($250 value) & Tattoo Flash Set ($100 value).
Listen Now
to a new one-on-one interview
with Mitch O'Connell on Gweek Podcast!

WIN THIS ORIGINAL INK DRAWING by Mitch O'Connell!