Amazing Everything Signing with Scott C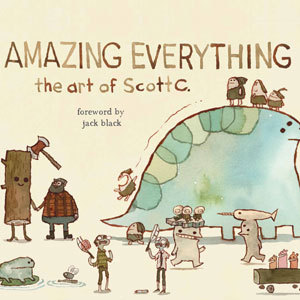 Amazing Everything Signing with Scott C
October 8, 2011
Opening Reception / Oct 8, 6:00PM - 8:00PM


view photos
share this event
With equal parts style, humor, and insight, Scott C. has delighted an international fanbase with his unique watercolor paintings, illustrations, and drawings.
Amazing Everything: The Art of Scott C.
is his first monograph, the best and most imaginative works of art in his emerging career.
Victorian-era dinosaurs at high tea; lumberjacks and their sometimes-awkward relationship with trees; and ninjas lounging in their living room at home. These and other reflections of Scott C.'s artistic vision have kept him on the radar of such pop-culture trend outlets as
Flavorpill
and
Hi-Fructose
.

Celebrating the release of Scott C's new art book! Join us for this exclusive L.A. launch event and stay for the opening reception of our two-level dragon exhibit! More Details

PRE-ORDER the new book here