Look At This, Look At That: A Tribute to Dr. Seuss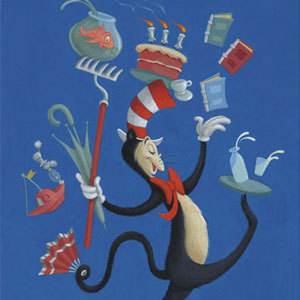 Look At This, Look At That: A Tribute to Dr. Seuss
March 3, 2012 - March 24, 2012
Opening Reception / Mar 3, 7:00PM - 11:00PM


view pieces
view photos
share this event
With his iconic characters, charming narratives, and whimsical illustrations, Dr. Seuss has undoubtedly become one of the most renowned children's book writer and illustrator. His books, "The Cat in the Hat," "Horton Hears a Who," and many others, have become timeless classics, influencing generations upon generations of young readers through their imaginative characters, whimsical narratives, and intricate rhymes. To celebrate his achievements, Nucleus is proud to present an exhibition featuring over 40 artists paying homage to the visionary through their own interpretations and re-enivisionings.
Opening Highlights Include:
Hourly Raffle Prizes
Poetry Readings by Collective Voices
Seussland Photo Op with photographer Lisa Whiteman. See the opening night photos here
Complimentary Cotton Candy & Refreshments
Meet Artists in Attendance
This is an all-ages event, open to the public, free admission.

Win This Original Artwork:
Enter to win the above painting by artist Alina Chau and receive a FREE print.
More Details


Exhibiting Artists Include:
Alina Chau
APAK
Becky Dreistadt

Ben Newman
Brun Croes
Cuddly Rigor Mortis
Dadu Shin
Dan Santat

Daniela Volpari
Drake Brodahl
Drazen Kozjan
Glenn Kim
Graham Annable

Ian Abando
Israel Sanchez
Jackie Huang
Jake Parker
Jared Andrew Schorr

Jason Sadler
Jeni Yang
Joey Chou
Joy Ang

Kei Acedera
Lee White

Lindsey Olivares
Lorelay Bove
May Ann Licudine (Mall)
Mari Inukai
Michal Wright-Ward
Michelle Thies
Mindy Lee
Nate Wragg
Nicole Gustafsson
Perry Dixon

Peter de Sève
Peter Emmerich

Phil McAndrew
Ping Zhu
Ryan O'Loughlin

Sachin Teng
Sam Wolfe Connelly
Sebastien Mesnard
So Youn Lee
Victoria Ying
Willie Real

Joey Chou |
Green Eggs and Ham
| 20" x 20" | Acrylic
Sachin Teng |
I Speak for the Trees
| 13" x 13" | Gouache
Ryan O'Loughlin |
They Are Tame
| 13" x 13" | Pencil
Mari Inukai |
Who Am I
| 12" x 12" | Oil on Canvas
Watch the Official Trailer for The Lorax:
Top images by May Ann Licudine (Mall) and Peter Emmerich