7
days left to order and receive your domestic shipments by Christmas!
Moonshine Book Signing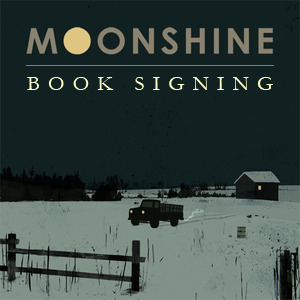 Moonshine Book Signing
September 3, 2010
Opening Reception / Sep 3, 7:00PM - 10:00PM


share this event
The closing reception/book signing for our previous Moonshine event!

From forty-five talented and prolific DreamWorks Studio art directors, production and character designers, and visual development artists,
Moonshine
features personal artwork that is made during the precious little times of day when the contributors are not working on stunning upcoming movies such as
Puss in Boots
,
Shrek Forever After
,
The Croods, Kung Fu Panda 2
,
MegaMind
, and
The Guardians of Childhood
.


BOOK SIGNING DETAILS/SPECIALS
-
FREE ADMISSION
-ONE raffle ticket = $1
-Prizes include a 3-day pass for the
CTN Animation Expo
in November, Jon Klassen's
"Moon Lake"
shirts (2), exclusive new prints by
Chris Appelhans
(2) and
Nate Wragg
(2), and signed copies of
Moonshine
(3).

ARTISTS IN ATTENDANCE (MORE TBA!)
Richard Daskas
Goro Fujita
Christophe Lautrette
Lindsey Olivares
Ruben Perez
Griselda Sastrawinata
Nicolas Weis