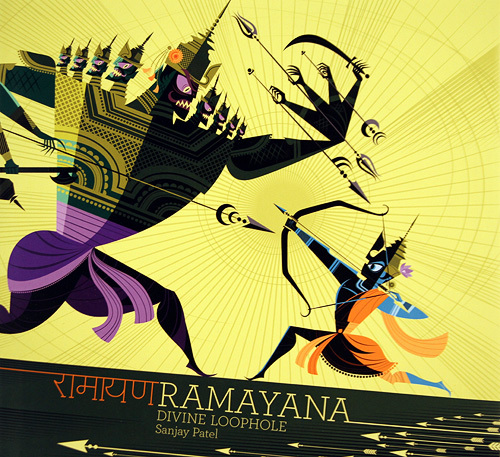 Ramayana: Divine Loophole
Share this Item
Features:
Hardcover
Signed

Artist and veteran Pixar animator Sanjay Patel lends a lush, whimsical illustration style and lighthearted voice to one of Hindu mythology's best-loved and most enduring tales. Teeming with powerful deities, love-struck monsters, flying monkey gods, magic weapons, demon armies, and divine love, Ramayana tells the story of Rama, a god-turned-prince, and his quest to rescue his wife Sita after she is kidnapped by a demon king. This illustrated tale features over 100 colorful full-spread illustrations, a detailed pictorial glossary of the cast of characters who make up the epic tale, and sketches of the work in progress. From princesses in peril to gripping battles, scheming royals, and hordes of bloodthirsty demons, Ramayana is the ultimate adventure story presented with an unforgettably modern touch.
About the Author:
Sanjay Patel is the author of The Little Book of Hindu Deities and is an animator and storyboard artist for Pixar Animation Studios, where he has worked on numerous films, including Monsters, Inc.; A Bug's Life; Toy Story 2; Ratatouille; The Incredibles; and Toy Story 3. He has also worked on The Simpsons for Fox and with legendary cartoonist John K., creator of Ren and Stimpy.
More Views
Options
If you would like us to stock more of this item, please contact us. Note that we may not be able to re-stock all items.
You may also consider...