28
days left to order and receive your domestic shipments by Christmas!
21
days left to order and receive your international shipments by Christmas! Please email us for international shipping after December 10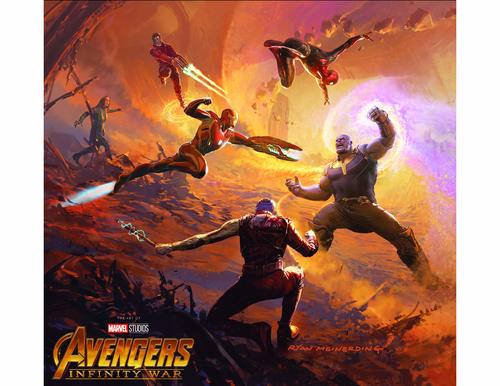 Marvel's Avengers: Infinity War - The Art of the Marvel Cinematic Universe
Share this Item
Signed Pre-Orders will be shipped Nov. 20. Please allow 3-5 business days shipping & handling. Road to Avengers: Infinity War Panel & Book Signing event on Nov. 17 2018. For more information on the event and how to purchase Unsigned copies/admission, please click here.

Continuing their popular
Art Of
series, Marvel Studios presents its biggest achievement yet:
Marvel Studios' Avengers: Infi nity War
! A threat has emerged from the cosmos: Thanos. A ruthless warlord who plans to collect all six Infi nity Stones. Joined by his formidable allies, he will be near-unstoppable at achieving his goal. The Avengers, the Guardians of the Galaxy, Doctor Strange and Spider-Man must join forces and fi ght side by side to stop Thanos, while the fate of the Earth and the universe lies in the balance. Go behind the scenes with this keepsake volume!
Filled with exclusive concept art for character, costume and set designs, as well as production stills and in-depth interviews with the fi lmmakers,
Marvel's Avengers: Infi nity War - The Art of the Movie
provides exciting insider details about the making of this highly anticipated film.
Options
You may also consider...