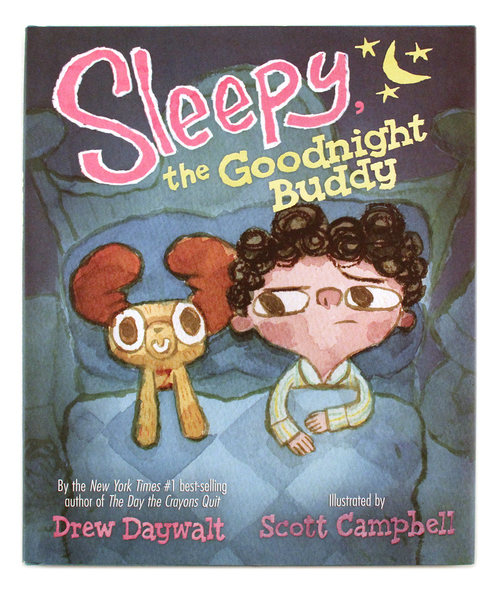 Sleepy, the Goodnight Buddy
Share this Item
Features:
Hardcover
Limited Edition
Signed

Signed Pre-Order are not for pick-ups, please allow 3-5 business days for shipping & handling after the Sleepy Signing w/Scott & Drew. For more information, please click here.Signatures by Scott C. and Drew Daywalt.
It is impossible not to crack up while reading this all-dialogue bedtime story by Drew Daywalt, the
New York Times
#1 best-selling author of THE DAY THE CRAYONS QUIT. Scott Campbell's expressive illustrations bring home the hilarity.
Roderick hates going to bed, and the young boy has become quite resourceful in coming up with ways to delay the dreaded hour when the lights must go out. Roderick's loving parents--fed up with the distractions and demands that have become his anti-bedtime ritual--decide to get him a stuffed animal to cuddle with and help him wind down. However, Sleepy quickly proves to be a bit high-maintenance. Just when we fear the night may never end, Sleepy's antics become too exhausting for Roderick to bear.
More Views
Options


Scott Campbell (Scott C) is a maker of paintings, illustrations, comics, kid's books and video games. He studied illustration at the Academy of Art in San Francisco, focusing on comic and children's book illustration. Soon after graduating, he began at Lucas Learning as concept artist on children's video games. Four years later, he joined Double Fine productions as Art Director on such games as the critically acclaimed Psychonauts and Brutal Legend. Alongside this career in games, he has published numerous comics and created paintings that have appeared in galleries and publications around the world. Some of his most notable projects include the GREAT SHOWDOWNS series, "Igloo Head and Tree Head" series, Double Fine Action Comics, Hickee Comics, the Zombie In Love children's book, and Psychonauts and Brutal Legend with Double Fine Productions. Scott lives in New York City.
If you would like us to stock more of this item, please contact us. Note that we may not be able to re-stock all items.
You may also consider...