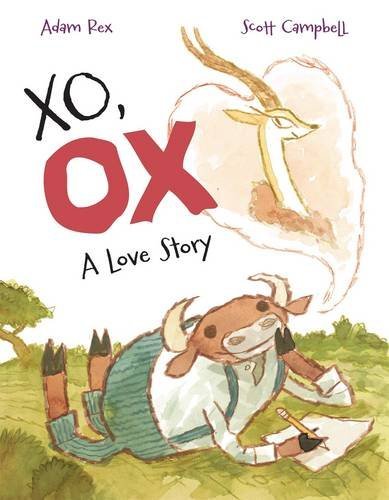 XO, OX: A Love Story
Share this Item
All Signed Pre-Orders will be available to ship in the evening of January 14, 2017. Please allow 3 - 5 business days for shipping & handling. Unsigned copies will be available January 3, 2017.

Dear Gazelle,

For some time now I have wanted to write a letter to say how much I admire you. You are so graceful and fine. Even when you are running from tigers you are like a ballerina who is running away from tigers.

I think that what I'm trying to say is that I love you.

XO,
OX
And so begins an epic, if initially unrequited, love affair between a graceful gazelle and a clumsy, hapless ox. Romance will never be the same.
Adam Rex's hilarious, sweet, and at times heartbreaking letters between a hopelessly romantic ox and a conceited, beautiful gazelle are paired perfectly with Scott Campbell's joyful illustrations to bring you a romance for the ages.
More Views
Options (Limited Stock)


Scott Campbell (Scott C) is a maker of paintings, illustrations, comics, kid's books and video games. He studied illustration at the Academy of Art in San Francisco, focusing on comic and children's book illustration. Soon after graduating, he began at Lucas Learning as concept artist on children's video games. Four years later, he joined Double Fine productions as Art Director on such games as the critically acclaimed Psychonauts and Brutal Legend. Alongside this career in games, he has published numerous comics and created paintings that have appeared in galleries and publications around the world. Some of his most notable projects include the GREAT SHOWDOWNS series, "Igloo Head and Tree Head" series, Double Fine Action Comics, Hickee Comics, the Zombie In Love children's book, and Psychonauts and Brutal Legend with Double Fine Productions. Scott lives in New York City.
You may also consider...