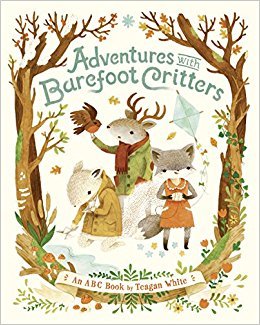 Adventures with Barefoot Critters
Share this Item
Height:
10.25" (26.04 cm)
Join an adorable cast of animal characters as they explore the alphabet through the seasons. From gathering honey in spring to building cozy campfires in fall, the friends make the most of each season, both enjoying the great outdoors and staying snug inside. Learning the alphabet is fun when adventuring with these critters, and children and adults alike will delight in Teagan White's sweet, nostalgic illustrations.
Options
Teagan White Teagan White is a freelance illustrator from Chicago, now living and working in St Paul, Minnesota. Her work encompasses intricate drawings of flora and fauna, playful watercolors of anthropomorphic critters, illustrated typography, and everything in between. Teagan spends her tiny amounts of free time following tangled animal paths through forest and field, squishing along reedy riverbanks, attempting to befriend gulls on rocky lakeshores, picking wildflowers, and collecting animal bones. White has been featured in CMYK's Top 100 New Creatives Vol. #50.
If you would like us to stock more of this item, please contact us. Note that we may not be able to re-stock all items.
You may also consider...