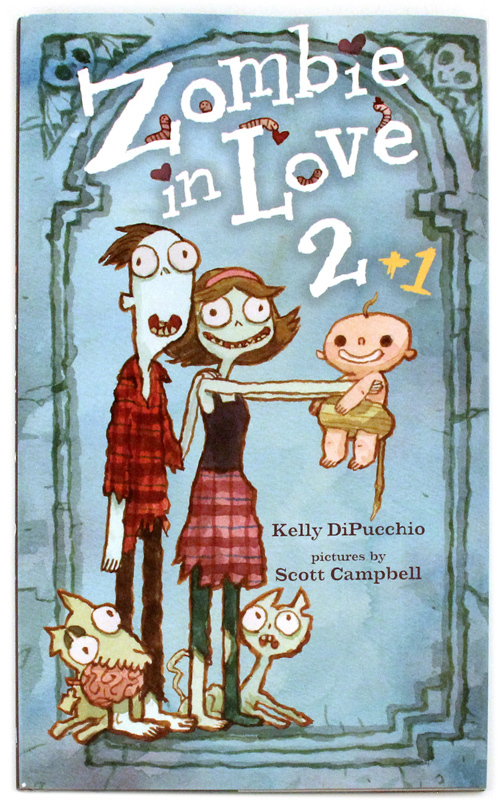 Zombie in Love 2 + 1
Share this Item
Height:
11.25" (28.58 cm)
Signed Pre-orders ship Feb 17th, 2015

Happily married zombie couple Mortimer and Mildred are thrilled to be new parents. But having a baby isn't what they expected. Sonny hardly ever cries. His teeth are coming in instead of falling out. And worst of all, he's awake all day and sleeps through the night.

Mortimer and Mildred are dead tired, and very worried. Will their precious baby boy ever behave like a good little monster?

New York Times bestselling author Kelly DiPucchio and illustrator Scott Campbell team up once again to bring their lovable zombies the family they always wanted.
More Views
Options


Scott Campbell (Scott C) is a maker of paintings, illustrations, comics, kid's books and video games. He studied illustration at the Academy of Art in San Francisco, focusing on comic and children's book illustration. Soon after graduating, he began at Lucas Learning as concept artist on children's video games. Four years later, he joined Double Fine productions as Art Director on such games as the critically acclaimed Psychonauts and Brutal Legend. Alongside this career in games, he has published numerous comics and created paintings that have appeared in galleries and publications around the world. Some of his most notable projects include the GREAT SHOWDOWNS series, "Igloo Head and Tree Head" series, Double Fine Action Comics, Hickee Comics, the Zombie In Love children's book, and Psychonauts and Brutal Legend with Double Fine Productions. Scott lives in New York City.
You may also consider...