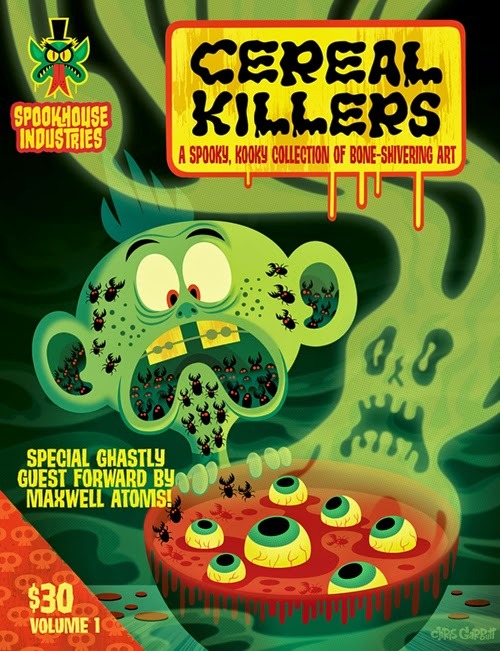 Cereal Killers Vol. 1
Share this Item
Von Kreep's long awaited glucose goodie CEREAL KILLERS features over 70's bone-shivering top notch artists from the animation & illustration world. So get your Halloween on early this year and Trick or Treat yourself a copy now!

74 Creepy Contributing artists from the world of animation & illustration include:

Lou Romano (Ratatouille)
Alex Kirwan (Gravity Falls)
Derrick J. Wyatt (Ben 10: Omniverse)
Chris Reccardi (Uncle Grandpa)
Lauren Faust (My Little Pony)
Kup Kake (Refined Sugar)
Ragnar
Derek Yaniger
Johnny Yanok
Sandra Equihua (The Book of Life)
Chris Savino (The Loud House)
Bill Wray (Scooby-Doo: Mystery Inc.)
Ben Balistreri (Wander Over Yonder)
Josh Parpan (Gravity Falls)
Justin Parpan (Mickey Mouse)
Stephen Blickenstaff
Nate Wragg
Miles Teves (Jack the Giant Slayer)
Jay Stephens (The Secret Saturday's)
Pat Pakula (Rocket Monkey's)
Rob Lilly (The Ricky Gervais Show)

And more!

Plus a special guest Forward by Maxwell Atoms creator of Cartoon Network's The Grim Adventures of Billy & Mandy, and Dead Meat!

* Warning this product may cause gum disease, tooth loss and monstrous mutations.
Options
If you would like us to stock more of this item, please contact us. Note that we may not be able to re-stock all items.
You may also consider...