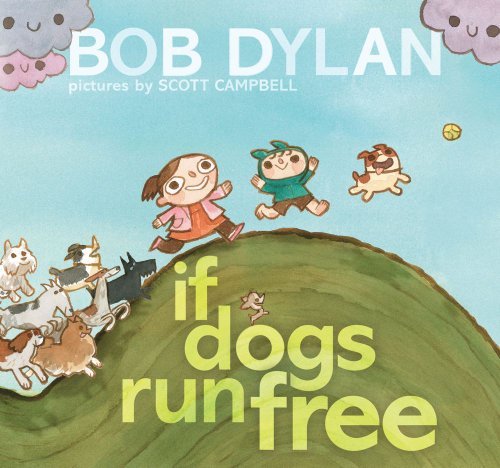 If Dogs Run Free
Share this Item
Features:
Hardcover
Signed

Music icon Bob Dylan and acclaimed illustrator Scott Campbell team up in this delightful interpretation of Dylan's 1970 song, "If Dogs Run Free"!
If dogs run free,
Why not we?
"If Dogs Run Free, from the 1970 album New Morning, is Dylan's version of a novelty song: a goof on a '50s-style mashup of piano jazz and spoken word.... It inspires the talented Campbell (East Dragon, West Dragon) to create a benevolent, retro-ish watercolor universe of cross-species friendships and endlessly fun things to do, with a wide-eyed and inexhaustible girl, her younger brother, and their pet dog as ringleaders."
– Publishers Weekly, June 2013
More Views
Options (Limited Stock)


Scott Campbell (Scott C) is a maker of paintings, illustrations, comics, kid's books and video games. He studied illustration at the Academy of Art in San Francisco, focusing on comic and children's book illustration. Soon after graduating, he began at Lucas Learning as concept artist on children's video games. Four years later, he joined Double Fine productions as Art Director on such games as the critically acclaimed Psychonauts and Brutal Legend. Alongside this career in games, he has published numerous comics and created paintings that have appeared in galleries and publications around the world. Some of his most notable projects include the GREAT SHOWDOWNS series, "Igloo Head and Tree Head" series, Double Fine Action Comics, Hickee Comics, the Zombie In Love children's book, and Psychonauts and Brutal Legend with Double Fine Productions. Scott lives in New York City.
You may also consider...