Previous Piece Nautical Nonsense: A Tribute to SpongeBob SquarePants (All) Next Piece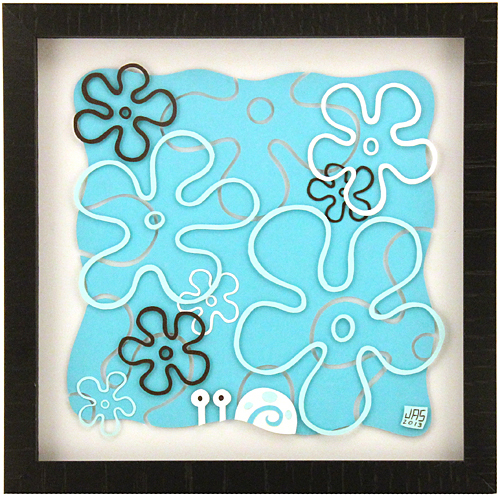 Hiding and Seeking
Share this Item
Art Height:
8.0" (20.32 cm)
Art Width:
8.0" (20.32 cm)
Frame Height:
10.5" (26.67 cm)
Frame Width:
10.5" (26.67 cm)
Please Note:
Artwork in this exhibition is
traveling to Universal Studios Hollywood for a high profile event in September 2013. For this reason, purchased artwork cannot be delivered to buyers until after September 17th. Please contact us if you have further questions.
The Art & Making of SpongeBob SquarePants
Join Us Saturday, August 3, 2:00 to 5:00PM
We welcome artists from the animated series for an extremely rare glimpse at behind-the-scenes artwork and learn about the process of production design and visual development from a few of the series' very own including Creative Director Vincent Waller. Learn more
More Views
Options
Jared Andrew Schorr is a local illustrator. He received his BFA in illustration from the Art Center College of Design in 2009. Schorr specializes in creating whimsical and detailed work entirely from cut paper. His work has appeared in the pages of The New York Times, Good Magazine, and WIRED. A few of his clients have included Poketo and NPR. Schorr's work can also be seen in group exhibits at Gallery Nucleus, Double Punch Gallery, and Space15Twenty.

I want this as a print!
We can't promise prints for every piece, but if the interest is high, it may be an option.