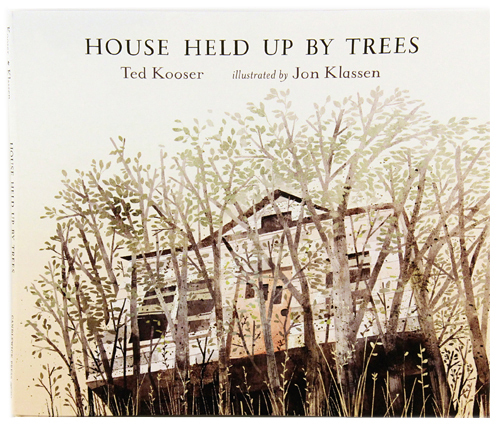 House Held Up By Trees
Share this Item
Features:
Limited Edition
Signed

Learn more about the House Held Up by Trees artist event here

From Pulitzer Prize-winning poet Ted Kooser and rising talent Jon Klassen comes a poignant tale of loss, change, and nature's quiet triumph.
When the house was new, not a single tree remained on its perfect lawn to give shade from the sun. The children in the house trailed the scent of wild trees to neighboring lots, where thick bushes offered up secret places to play. When the children grew up and moved away, their father, alone in the house, continued his battle against blowing seeds, plucking out sprouting trees. Until one day the father, too, moved away, and as the empty house began its decline, the trees began their approach. At once wistful and exhilarating, this lovely, lyrical story evokes the inexorable passage of time - and the awe-inspiring power of nature to lift us up.


More Views
Options


Jon Klassen is an illustrator, designer, and concept artist hailing from Ontario, Canada. He attended Sheridan College, and is currently based in Los Angeles. Klassen has worked on a number of high profile film and animation projects, including the U2 music video "I'll Go Crazy If I Don't Go Crazy Tonight," Henry Selick's Coraline, and a TV spot for BBC's coverage of the 2010 Vancouver Olympics. His recent work on the children's book Cats' Night Out won the Canada Council for the Arts Governor General's Awards for English Language Children's Illustration.
You may also consider...