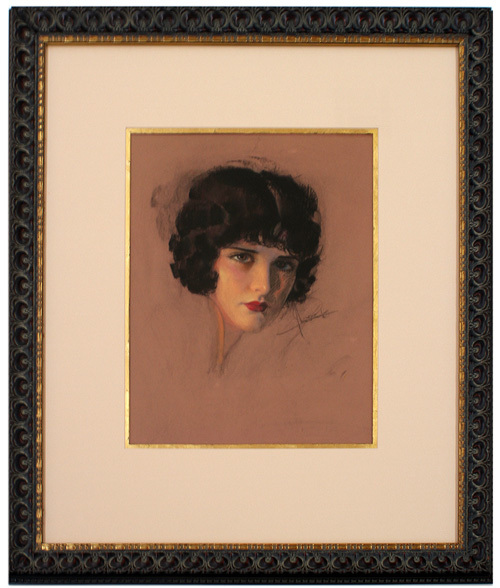 Portrait of Evelyn Brent
Share this Item
Art Height:
19.5" (49.53 cm)
Art Width:
15.5" (39.37 cm)
Frame Height:
41.0" (104.14 cm)
Frame Width:
27.0" (68.58 cm)
Medium:
Pastel on illustration board
Features:
Framed
Signed & Numbered on Piece

This alluring jazz age portrait of Evelyn Brent by Rolf Armstrong of silent film star Evelyn Brent was commissioned as original artwork for the cover of the March 1930 issue of Screenland Magazine. Armstrong executed a series of covers for this title between 1929 - 1930; he once remarked that Brent had the most perfect face he had ever portrayed. Pastel is matted and framed behind glass and in a fine state of original conservation.

Born in Florida, Evelyn Brent was raised in New York by her widowed father. A teenage model, Evelyn began appearing in films at the Popular Plays and Players studio in Fort Lee, New Jersey. After World War I, she traveled to England, where she worked in films and on stage. Back in the U.S. in 1922, Evelyn established herself in exotic, "dangerous" roles, notably in the late-silent efforts of director Josef Von Sternberg. Luckily, Evelyn's voice matched her screen image perfectly, and she had no trouble adjusting to talkies; unluckily, her earliest talkie starring efforts were box-office failures, and by the mid-1930s Evelyn was consigned to secondary roles. She took occasional sabbaticals from Hollywood to tour in vaudeville, rounding out her acting career in such Monogram cheapies as Bowery Champs (1944) and The Golden Eye (1948). Evelyn Brent worked as an actor's agent in the 1950s, then retired, periodically emerging from her Westwood Village home to appear as guest of honor at theatrical revivals of her best silent films.
More Views
Options