The Last-Minute Holiday Gift Guide 2015
Dec 22, 2015 posted by: Kenneth
'Twas the night before the night before Christmas, when all through the gallery... stocking stuffers were stirring, ready for your hard-earned salary!
With 2 days left before Christmas, you've most likely completed your holiday shopping and are neck-deep in wrapping paper and greeting cards. However, there are always one or two people who you're stuck on—family or friends whose gifts you've procrastinated purchasing because you just don't know what to get them this year. Fear not, Nucleus is here to swoop in with our
Last-Minute Holiday Gift Guide 2015
!
Read on for our stocking stuffer store-picks, curated gift bundles for that particularly specific person in your life. Each gift bundle ranges from affordable to pricey, and keep in mind that you can always swap one thing out for another to meet your tastes. Remember to take advantage of our current SALE discounts, which can be found at the very bottom of this post (and don't forget: tomorrow we close early at 5pm for Christmas Eve). Merry Christmas, happy holidays and thanks for shopping Nucleus!
---
Do you have a tree hugger friend who loves to hike, camp, take waterfall pictures and post all of the above on social media? Well we have the perfect gift bundle for the modern nature enthusiast, including a log pillow for those high-altitude naps on the summit of Mt. Fillintheblank, a fun tea accessory for the campfire steep session and a beautiful nature print—an indoor reminder of the outdoors.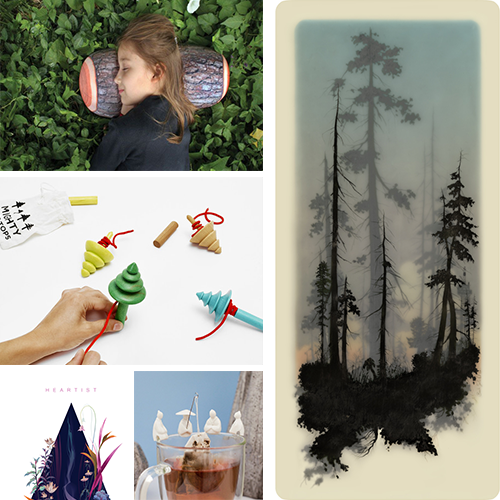 Clockwise from top:
Log Pillow
by Kikkerland: $16.95,
End of the Triassic
print by Brooks Salzwedel: $125,
Tea Holder Fishermen
by Kikkerland: $14.95,
Heartist
book by Wendy Hearts: $26.95,
Mighty Tree Tops
by Karl Zahn x Areaware: $11.95
---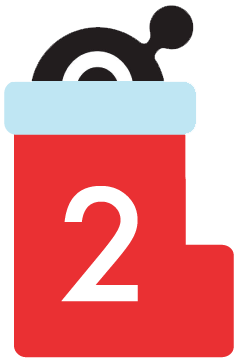 The Obsessive Cat Lover Bundle

We all know someone who loves their cat. Or maybe they love your cat. Either way, cat love abounds and you're wondering what to give that person for the holidays because you can't regift the 10-lb. bag of kitty litter which came free when you bought that carpet-covered feline tree. Consider this bundle, which includes various cat-themed gifts and enough kitty art to last through the winter!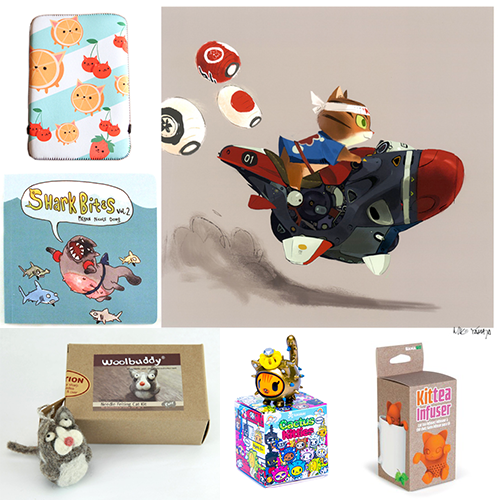 Clockwise from top: Fruit Cat iPad Mini Case
by ECA: $30,
Hover Cat
print by Mike Yamada: $29,
Kit-Tea Infuser
by GAMAGO: $9.95,
Cactus Kitties
blindbox figurine by tokidoki: $5.95,
Needle Felting Cat Kit
by Woolbuddy: $14.95, Shark Bites vol. 2 book by Megan Nicole Dong: $14.95



---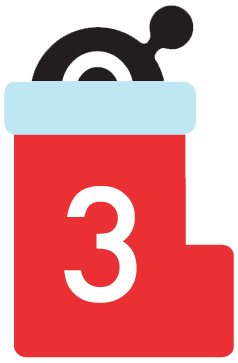 The Nerdy Geek Friend Bundle
This is you, isn't it? There's a nerd inside all of us, and we're proud to proclaim it! Whether you're in search of presents for your geek pal or for yourself, this bundle is full of Nucleus-approved gift ideas—from a retro video game system that plays those dusty old cartridges to a wide selection of old school Star Wars action figures, just in time for this season's newest space saga...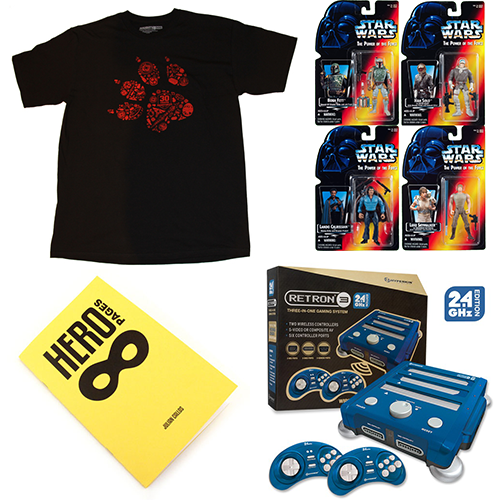 Clockwise from top: Naughty Dog 30th Anniversary Shirt
: $9.95,
Assorted Star Wars Action Figures
by Hasbro: $10 or $5,
RetroN 3 Gaming Console
by Hyperkin: $74.99,
Hero Pages
book by Julian Callos: $6



---