The Art of MARVEL Superhero Films
Aug 30, 2015 posted by: Kenneth
For every modern MARVEL comic book movie that graces the planet, an Art of book comes with it. These limited edition hardcover volumes come packaged with great looking slipcases to protect the book inside it and make perfect gifts for anyone who is a fan of the superhero films or the comics they're based on. Here's a breakdown of the three editions available at Nucleus:


➲ The Art of Iron Man 3
Iron Man
movie concept art would quickly get old, but it doesn't. It's actually very interesting. With 280 full-color pages featuring Stark technology at its outlandish best, there's A LOT to flip through—and a lot to like. Chapters two and three highlight War Machine, Iron Patriot and all the other Iron Man suit variants shown in the flick, including the Mark 38 heavy-lifting "Igor" suit which seems to have been the forerunner to Tony Stark's Hulkbuster armor that made its cinematic debut in
Avengers: Age of Ultron
earlier this year. These sections alone make the book worthwhile!
The Art of Iron Man 3
is text-heavy, a good thing for those wanting to brush up on their Iron Man movie knowledge, but at times there is so much copy that words end up clashing with the artwork. This isn't so much a detraction as it is a nuisance; chapter six's Iron Legion foldout—a sort of on-page nod to the fan favorite Hall of Armor that appears in several of the
Iron Man
films—more than makes up for it.
➲ The Art of Thor: The Dark World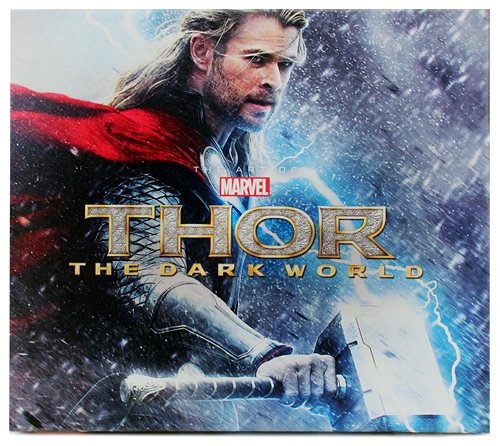 This book does justice to its MARVELized mythological Norse content; the beautiful concept art within its covers is magnified by enjoyably thematic page design. One wishes that the runes and patterns would light up with an Asgardian glow with each turn of the page! It's an experience-enhancing detail that the other two books featured in this article are somewhat lacking...
The Art of Thor: The Dark World
gets
really
good in the book's second chapter, "Born of Eternal Night." This section sheds light on the Dark Elves and their eerily mystical world, successfully conveying the same uncomfortable darkness to which the film's title alludes.
With all its content must come supplementary text, and this volume isn't short on it. This is the same quirk that the
Iron Man art book
runs into: copious amounts of text that is great for fans of the lore, but at the expense of some of the magnificent art spreads. It doesn't happen often though—the book strikes an appropriate balance between artwork and information, and does so especially well when it treats us with storyboards and fun references to the comics. Certain throwback sections, for instance, offer fans the opportunity to cross-check specific movie scenes with the comic books and pinpoint when they occur in the overall Thor timeline.
➲ The Art of Avengers: Age of Ultron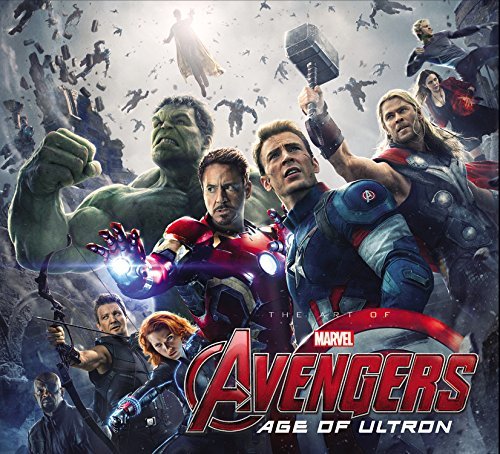 Whereas the other two MARVEL art books end with promotional marketing material for their respective films, this one
begins
with it. Maybe we'd be giving the book editor a little too much credit if we understood this as a referential metaphor to the drama-loaded superhero dream team itself and their undeniable marketability to which The Avengers are almost certainly self-aware, but the book nevertheless begins with this strange misstep. Flip past this awkward introduction and the volume comes into its own, granting readers with a fantastic inside-look at character concepts, weapon art and machinery featured in the summer blockbuster (weapon and machine designs never get old—these sections need their own book!)... the pinnacle of which is Ultron's spotlight.
Chapter three's Ultron pages are as interesting as it gets and when it follows that with chapter four's Hulkbuster pages, one get's the sense that
The Art of Avengers: Age of Ultron
hits its stride when it's highlighting the movie's metal and armored characters. The fifth chapter's storyboards on the final battle in Sokovia keep the excitement streaking along, though it would've been nice to see more storyboards throughout the entire book. Get past its almost excessive amount of content—at over 330 pages, this is a
THICK
art book—and scattered flow to reap the true reward of this action-packed opus: a chance to revisit the film without actually having to watch it.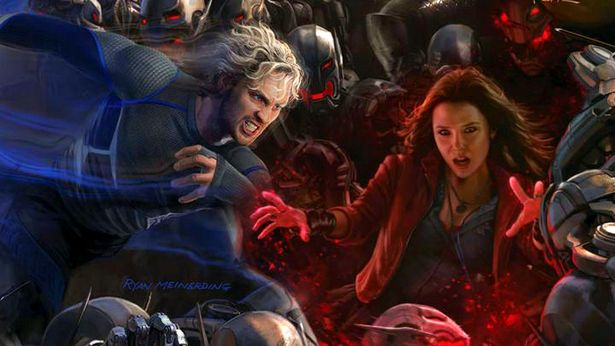 Oh, and in case you were wondering: Scarlet Witch and Quicksilver are just as irrelevant in the art book as they are in Age of Ultron!