May 13, 2014 posted by: Kenneth


Join us this weekend as we host artist Brandon Bird for an exhibition based upon the peculiar contents of one children's superhero coloring book.

The story behind Bird's X-Mans show took shape a decade ago, when he found an X-Men coloring book in a Watsonville dollar store. The artist found the activity book's non-traditional anatomy intriguing, its early industrial setting inexplicable. Needless to say, images of X-Men standing around water coolers ultimately emerged as the inspirational source material for this weekend's exhibit.

Bird has asked his artist friends to present their own interpretations of this unique work. Each piece is displayed next to the coloring page that inspired it, credited to Ronald & Donald Williams. The fact that the coloring book was an officially licensed Marvel product provides the satirical reference point to which each piece certainly imbibes!

The show will be on display in our upper gallery on May 17th, 18th and 20th, with the opening reception taking place on Sunday, May 18th from 2:00 to 5:00 pm.

Any questions or purchase inquiries can be directed at brandonbird@gmail.com; you can also follow @Brandon_Bird on Twitter for updates.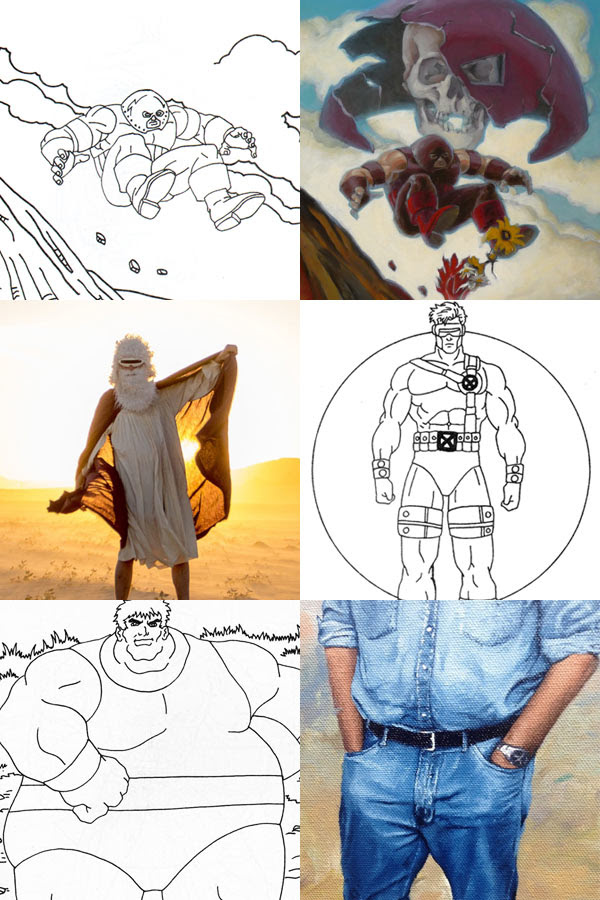 From top to bottom: "Magic Man, Magic Land" by John Larriva, "Visor Man Encircled by the Sun" by Joel Fox, "The Immovable Object" by Jeff Ramirez

Comments
Post a Comment
LOCATION
NUCLEUS FLAGSHIP
210 East Main St
Alhambra CA 91801 (Map)
Store 626.458.7482
Gallery 626.458.7477
MON: closed
TUES - SUN: 12pm to 8pm
NUCLEUS PORTLAND
1445 SE Hawthorne Blvd.
Portland OR, 97214
Phone: 503.231.2702
NEWSLETTER
©2020 Nucleus Studios, Inc. All Rights Reserved.

SOCIAL
#GALLERYNUCLEUS