RAW MATERIAL V.1 Exhibition & Book Signing by Eliza Ivanova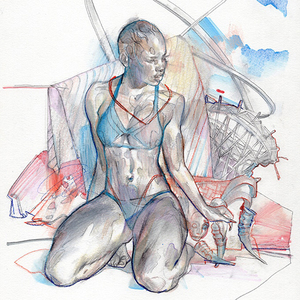 RAW MATERIAL V.1 Exhibition & Book Signing by Eliza Ivanova
November 11, 2017 - November 26, 2017
Opening Reception / Nov 11, 6:00PM - 9:00PM
48 days away

add to calendar (.ics)
share this event
A solo exhibition and book signing for Eliza Ivanova's latest book, Raw Material v.1

Eliza is currently a 3D animator at Pixar Animation studios. She graduated from CalArts for traditional hand drawn animation and her work has been featured in several Pixar films such as Coco, The Good Dinosaur, Inside Out, and Monsters University.

Raw Material v.1 is a curated collection of Eliza's many drawings in the past 5 years. It will be debuting at Nucleus with an exhibition to showcase a number of Eliza's work featured in the book.