21
days left to order and receive your domestic shipments by Christmas!
14
days left to order and receive your international shipments by Christmas! Please email us for international shipping after December 10
Babu's Daydream: The Art of MALL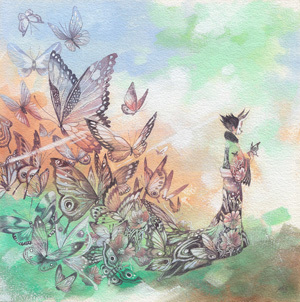 Babu's Daydream: The Art of MALL
August 27, 2016 - September 11, 2016
Opening Reception / Aug 27, 7:00PM - 10:00PM


view pieces
view photos
share this event
Nucleus is excited to present a beautiful series of original work from May Anne Licudine aka Mall. Featuring her characters Babu and Abu, Mall's new collection takes us on a magical journey with spirits and nature.
About the artist:Mall
is a freelance illustrator based in La Union, Philippines. In 2001, she graduated from the University of the Philippines College in Baguio, where she earned her degree in Fine Arts. Since graduating, her whimsical pieces, which often depict her charming characters Babu and Abu on a fanciful adventure, have been showcased worldwide. The artist says she is heavily inspired by her own dreams, nightmares, nature and folk music.