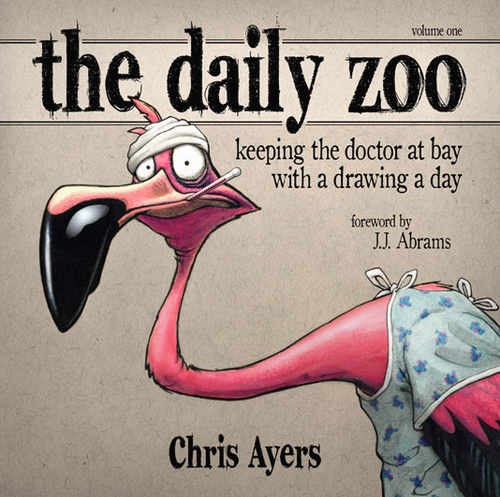 The Daily Zoo: Keeping the Doctor at Bay with a Drawing a Day
Share this Item
In the spring of 2005 Chris Ayers was busy working as a concept artist in the Hollywood film industry. That came to a crashing halt when he was diagnosed with leukemia on April first. After a year-long period of treatment and recovery he started a sketchbook called The Daily Zoo on the anniversary of his diagnosis. Over the next 365 days he would draw one animal each day, challenging both his self-discipline and imagination. Most importantly it would allow him the focused opportunity to celebrate the gift of each healthy day. The pages of The Daily Zoo: Volume One are chock-filled with 365 distinct critters, ranging from curious pandas to sinister hyenas, athletic aardvarks to zealous zebras, and his choice of artistic styles are as diverse as his subject matter. Alongside the images Ayers, whose big screen credits include Men in Black II, X-Men 3, and the Alien vs. Predator films, ties in commentary about his cancer experience, the sources of his artistic inspiration and his creative methods. Whether you're a beginning artist or a seasoned pro, this book will leave you inspired to grab the nearest pencil, pen, brush or crayon and start drawing!

About the Author:
After a yearlong period of treatment and recovery from leukemia, Chris Ayers started a sketchbook called The Daily Zoo. His initial goal of drawing one animal per day for a year was achieved and then published in The Daily Zoo: Volume 1. The process was so rewarding and therapeutic that Chris kept right on drawing.
Options
If you would like us to stock more of this item, please contact us. Note that we may not be able to re-stock all items.
You may also consider...