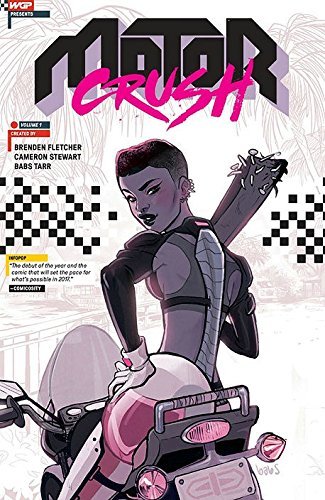 Motor Crush Volume 1 (TPB)
Share this Item
Author:
Cameron Stewart, Babs Tarr, Brenden Fletcher
Signed copies are out of stock indefinitely. For more information on attending Babs Tarr Motor Crush Exhibition & Signing, click here.

The team behind the critically-acclaimed revamp of Batgirl returns with an exciting sci-fi action-adventure series! By day, Domino Swift competes for fame & fortune in a worldwide motorcycle racing league. By night, she cracks heads of rival gangs in brutal bike wars to gain possession of a rare, valuable contraband: an engine-boosting "machine narcotic" known as Crush.
Collects issues 1 through 5.
Options
If you would like us to stock more of this item, please contact us. Note that we may not be able to re-stock all items.
You may also consider...