Blogs

05/07/2013
Events
About
The Art of UP: Artist Panel and Book Signing
May 29, 2009 posted by: Wade
We are very honored to welcome the talented
Ronnie del Carmen
this Saturday as he presents an exclusive look at the behind-the-scenes workings of the highly anticipated film "
UP"
which opens today. Del Carmen served as the Story Supervisor and Lead Story Artist on the film which has been receiving rave reviews. He will be sharing about the process involved in the making of the film as well as answering related questions.
In addition to his work on the film, Del Carmen also directed the animated short "Dug's Special Mission," which will accompany the DVD release of "
UP
" and provide the backstory for the talking dog character.
The artist also illustrated the new book release "My Name is Dug." You can read more about the release
here
After the Artist Panel, Del Carmen will be on hand to sign copies of the newly released
"The Art of
UP
"
book as well as the new "And There You Are" book featuring the fan-favorite muse, Nina, from his Paper Biscuit series. Bring your friends!
Saturday, May 30
2pm to 5pm
Free admission - Open to the public
* There will be some seating available on a first-come basis. If you have special needs, please contact us ahead of time and we will do our best to accommodate.
This is a rare opportunity. Help us spread the word to others who may be interested.

---
Seductive Espionage Trailer & Yuki Dolls
May 27, 2009 posted by: Sunny
In anticipation of our
art exhibit and book release
for Yuki 7, please check out this pretty sweet, recently debuted 1964 theatrical trailer 'A Kiss From Tokyo' :
Also, available now at Nucleus are Limited Edition (500) Yuki 7 Paper-craft Dolls which include 7 dolls & outfits. These Yuki 7 Dolls can only be found at Nucleus while the outfits are available at Lion's Den and Munky King. Don't feel like traveling? The whole set of outfits and Yuki 7 doll are also available exclusively at Nucleus for only $4.95. Purchase the set here.
---
Kevin Dart's No Doubt!
May 20, 2009 posted by: Sunny
Kevin Dart was recently commisioned to create a poster for this summer's No Doubt summer tour.
Inspired by 60's suspense movie posters, this was a ode to the song "Spiderwebs." In addition, Kevin's poster will be given out as part of the official No Doubt Club Tour Package. It was also screen-printed on totes for No Doubt's official tour merchandise.
Awesome job Kevin!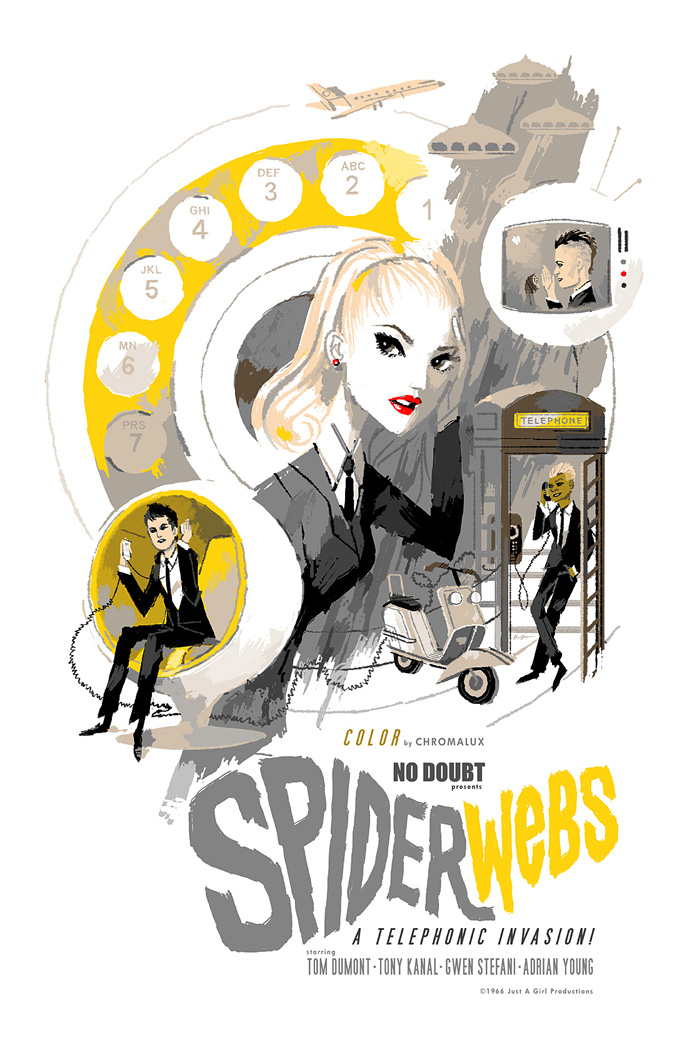 You can catch Kevin (and friends) at the official art exhibition & book release entitled Seductive Espionage: The World of Yuki 7 celebrating the release of the book of the same name. You can read more about the new book release here. To see more of Kevin's work and read about his amazing journey with Yuki 7, check out his blog. Keep posted as we have plenty of exciting things in store as we approach this truly unique event.

---
Last Cannon
May 18, 2009 posted by: Shadi
For all you iPhone/iPod Touch owners out there, Apple has approved my game Last Cannon and it's in the store now. I've put a lot of love and care into this game the last few months and hope you enjoy it! Tell your friends - I welcome any and all feedback you may have. Thanks! :)
---
Ancient Book Artist Spotlight: Lou Romano
May 16, 2009 posted by: Wade
Lou Romano was born in San Diego, CA in 1972. He took an interest in drawing at an early age and studied theater arts. After graduating in 1990 he studied animation at the California Institute of the Arts. Since then he has worked as an illustrator and designer on various projects including THE POWERPUFF GIRLS and THE IRON GIANT. He was also the production designer of Brad Bird's, THE INCREDIBLES for Pixar Animation Studios. In 2007, Romano lent his voice to the lead role of "Linguini" in the acclaimed animated film RATATOUILLE as well as smaller voice parts in CARS and THE INCREDIBLES.
Lou Romano |

Martian Still-Life with Chalice and Memory Stone

| Gouache | 15"x10"
Lou Romano |

The First Expedition

| Gouache | 15"x10"

---
Ancient Book Artist Spotlight: Nate Wragg
May 15, 2009 posted by: Wade
Nate Wragg was born in the small town of Davis, California in 1983. It was at a very young age that he began to enjoy drawing and painting. He studied animation at the California Institute of the Arts. Since leaving Cal Arts he has worked as an illustrator and designer on various productions including RATATOUILLE and the upcoming TOY STORY 3. He designed the end title sequence for RATATOUILLE along with production designing Pixar's short film YOUR FRIEND THE RAT. In addition to working in animation, Wragg illustrated the children's book TOO MANY COOKS for Walt Disney publishing as well as exhibiting his artwork in the New York Society of Illustrators 50th Annual Showcase.
Nate Wragg | 3-Desire the Night | Acrylic, Gouache, Collage | 15"x10"
Nate Wragg | She Loved the Man and the Monster | Acrylic, Gouache, Collage | 12"x10"
---
Ancient Book Artist Spotlight: Don Shank
May 14, 2009 posted by: Wade
Don Shank was born in 1968 and has always loved drawing cartoons and filmmaking. At the age of 8 he had an epiphany while watching a Bugs Bunny cartoon that you could have a job of doing both at once. He attended the animation program at the California Institute of the Arts. He went on to work at a variety of studios on many projects including REN & STIMPY, DEXTER'S LAB, & SAMURAI JACK. He has done design work for feature animation including THE INCREDIBLES and UP. Shank was also the production designer of THE POWERPUFF GIRLS for seasons 2 through 4. Shank has earned an Annie and 2 Emmy Awards for his work in animation.

Don Shank | Microscope 2 | 20"x16" | Acrylic on Panel
Don Shank | Lust and A Pink Torso | 24"x18" | Acrylic on Panel

---
Drawger
May 13, 2009 posted by: Sunny


A GREAT blog ANYONE interested in the illustation industry should check out this blog!
What started out as about 20 artists connecting and sharing their ideas, Drawger.com has turned into a wonderful illustrators community filled with amazing articles, insights and projects posted by those in the industry and those in the know, including Gary Taxali, Yuko Shimizu, Edel Rodriguez & much, much more!

---
Ancient Book Artist Spotlight: Scott Morse
May 13, 2009 posted by: Wade
As we approach this Saturday's
The Ancient Book of Sex & Science
opening, we will be spotlighting each of the four artists featured in the exhibit along with exclusive peeks at each artists contribution to the collection.
Since 1993, Scott Morse has walked a tightrope between the worlds of comics and animation. Morse began his career under mentor Maurice Noble while working for Chuck jones, and has since provided designs, color, storyboards, and art direction for studios including Universal, Hanna Barbera, Cartoon Network, Disney, Nickelodeon, and Pixar.

Morse has garnered critical acclaim and accolades as the author of over ten graphic novels and comics collections, including SOULWIND, VISITATIONS, VOLCANIC REVOLVER, MAGIC PICKLE, THE BAREFOOT SERPENT, SOUTHPAW, and NOBLE BOY. Morse lives with his family in California.
Scott Morse | Lucy and Piltdown Get Down | Cell Vinyl on Board | 12"x10"

Scott Morse | Fat Man and Little Boy | Cell Vinyl on Watercolor Paper | 16"x12"
---
Blinding Us With Science ...& Sex!
May 12, 2009 posted by: Wade
This weekend's Ancient Book of Sex & Science finds us once again excited to present the work of four awesome animators as we celebrate the highly-anticipated second release from the Ancient Book series. Well-respected for their PIXAR contributions, artists Scott Morse, Lou Romano, Don Shank, and Nate Wragg continue to wow us with impressive imagery and inspiring concepts as we set off in exploration of the strange frontiers of both sex and science.
The first book, which quickly sold out, received critical acclaim as we found the artists depicting epic legends and mythologies of the past with their complimenting graphic and narrative styles. This new offering carries a similar aesthetic, but with exciting new content. The exhibit will feature all of the original work from the book as well as a few extras including sculptural pieces from Romano. Keep tuned here in the days ahead as we spotlight each artist and provide exclusive peeks at the work. In the meantime, allow your retina to regale in these magnificently sublime specimens...

Don Shank |

Translumen 1

| Acrylic on Panel | 24" x 18"
Scott Morse |

Animal Testing

| Cell Vinyl on Watercolor Paper | 13" x 10"
Nate Wragg |

Space Quickie

| Acrylic, Gouache, Collage | 20" x 10"
Lou Romano |

Plutonian Ice Storm

| Gouache | 15" x 8.5"
You can also sign up for our online preview
here
(right of page), released late this Friday.
---
Countdown 3...2...1...We Have Lift Off!!
May 11, 2009 posted by: Wade
After years of delays, seven astronauts blasted off to repair and improve the Hubble Space Telescope aboard NASA's Atlantis today. It arguably marks the most technically ambitious in-space servicing project ever. The 11-day NASA mission includes five planned spacewalks to install new instruments and perform difficult repairs on Hubble, which was launched nearly twenty years ago. It is the first servicing trip to Hubble since 2002 and for the first time ever a second shuttle, Endeavor, awaits on standby in the event Atlantis suffers irreparable damage due to the current risks involved.

Launched from Kennedy Space Center in Florida, the current mission is the fifth--and final--servicing trip to Hubble and should make the telescope a hundred times more powerful. New batteries should keep the enhanced Hubble active for at least another five years and possibly as many as ten.

Originally scheduled for 2004, the mission has been delayed numerous times, most recently last October, when a failure of Hubble's ability to send data to Earth prompted scientists to add the repair to the mission's already lengthy to-do list. Among the repairs and installation of instruments, a new camera will allow Hubble to probe more deeply into the darkest areas of space capturing more images like the breathtaking ones seen below.

---
Head in the Clouds?
May 09, 2009 posted by: Wade
Relive the magic of the
HOME SLICE by Scott C
exhibit by picking up your very own treasured
CLOUD HOUSE
art print. This large format limited edition print is signed and numbered by the one and only Scott C and is a beaut!
And if you can't get enough of Scott C,
check out
the newly released Double Fine Action Comics (Vol. 1) that is sure to tickle your funny bone.
Scott C and
Graham Annable
have joined forces for this weekend's Toronto Comic Arts Festival. Read more about it on Scott C's blog
here
---
SBS figure sessions
May 08, 2009 posted by: b
The SBS figure session's atendance has been growing steadily, thanks to all the people stopping by to draw and to the great models we have had thus far.

Here are some of my drawings from the last few sessions. Next session is May 13. Won't you join us?

(10 min)


(8 min)

(5 min)

(2 min)

(10 min)


(10 min)

---
Our Other Blogs
New Photos
A Saga in the Stars: A Tribute Event to a Galaxy Far, Far Away
May 4, 2013
72 Photos
Lined in Lead 2
April 13, 2013
47 Photos
"Croods" Artist Panel
April 6, 2013
13 Photos
Archive
October 2012
September 2012
August 2012
June 2012
May 2012
April 2012
March 2012
February 2012
January 2012
December 2011
November 2011
October 2011
September 2011
August 2011
July 2011
June 2011
May 2011
April 2011
March 2011
February 2011
January 2011
December 2010
November 2010
October 2010
September 2010
August 2010
July 2010
June 2010
May 2010
April 2010
March 2010
February 2010
January 2010
December 2009
November 2009
October 2009
September 2009
August 2009
July 2009
June 2009
May 2009
April 2009
March 2009
February 2009
January 2009
December 2008
November 2008
October 2008
September 2008
August 2008
July 2008
June 2008
May 2008
Advertisers
Subscribe to Blue Canvas
Who is the fiercest?
East Dragon, West Dragon
by Scott C
Learn more